Theory:

Cryolipolysis

Portable:

Non Portable

Features 1:

Metal Handles

Features3:

Cool Advantage Technology

Transport Package:

Wooden Case

Origin:

China
How is the Cryolipolysis Fat Freezing Procedure? 
 
Freeze Contour Dual integrates Cryolipolysis, Vacuum and soft laser together, vacuum suction draws out fat tissue into
handle, Triglyceride in fat cells will be frozen into solidity, and dead under temperature of 4 to -10 centigrade by
cryolipolysis applicator, this non invasive cryolipolysis fat reduction procedure makes fat cells under a process "apoptosis"
and released out of our body through human natural metabolism.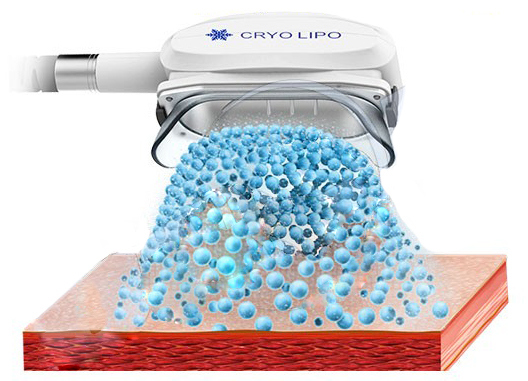 Advantages
 
High Cooling conductive applicator offers excellent cryolipolysis performance

Surrounding Fat Freezing Technology 

all-dimension Cryolipolysis Approach 

100% cooling panel instead of 40% cooling plates

Precise cooling control for maximum safety, temperature controlled in 0.1 degree centigrade

Short Treatment time: One treatment corresponds approximately 3 treatments with typical fat freezing devices.

Unique thermal and chill system can minimum reduce the risk of skin damage from frostbite.

Optimal Treatment results and versatile applications.
 
 
 What's Unique? 
 
1.Competitive Cryolipolysis fat freezing applicators 
The patented applicators is designed with entire area cooling panel (high conductive aluminum material) instead of double
small cooling plates, maximum cooling energy can be covered entire treated area equally.
The Innovative all-dimension surrounding cooling applicators maintains more stable cooling temperatures while enhancing
treatments results and decreasing application time. Allowing the target temperature for fat cell apoptosis (fat cell death) to
be reached at a more rapid rate. This means almost one third of the normal treatment time (60 minutes) involved in old
and traditional fat freezing treatments can be saved by the new handpiece. 
 
 
2. Exchangeable Contours
Creative concept of cooling applicator makes it possible to exchange different types of cooling contours easily without
buying extra applicator. Different contours are versatile for multiple area treatments, including the hips, flanks, midsection,
thighs and back. The handpieces are even effective in hard-to-reach areas like bra bulges and the upper arms. 
It is idea for pockets of fat in medium and Large treated areas. 
Each applicators provide three different sizes of interchangeable Contour,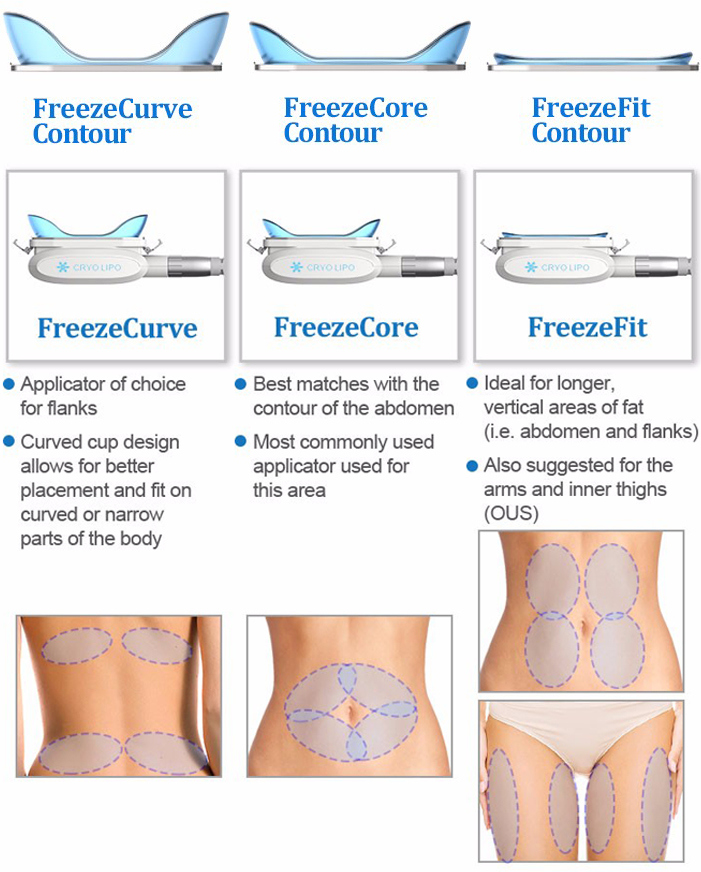 Freeze Curve Contour:
Size: 205*79*74 mm 
Applicator of choice for flanks
Curved cup design allows for better placement and fit on curved or narrow parts of the body

Freeze Core Contour:
Size:201*72*67 mm 
Best matches with the contour of abdomen
Most commonly used applicator used for this area

Freeze Fit Contour:
Size: 180*69*46 mm 
Ideal for longer vertical areas of fat (i.e. abdomen and flanks)
Also suggested for the arms and inner thighs (OUS)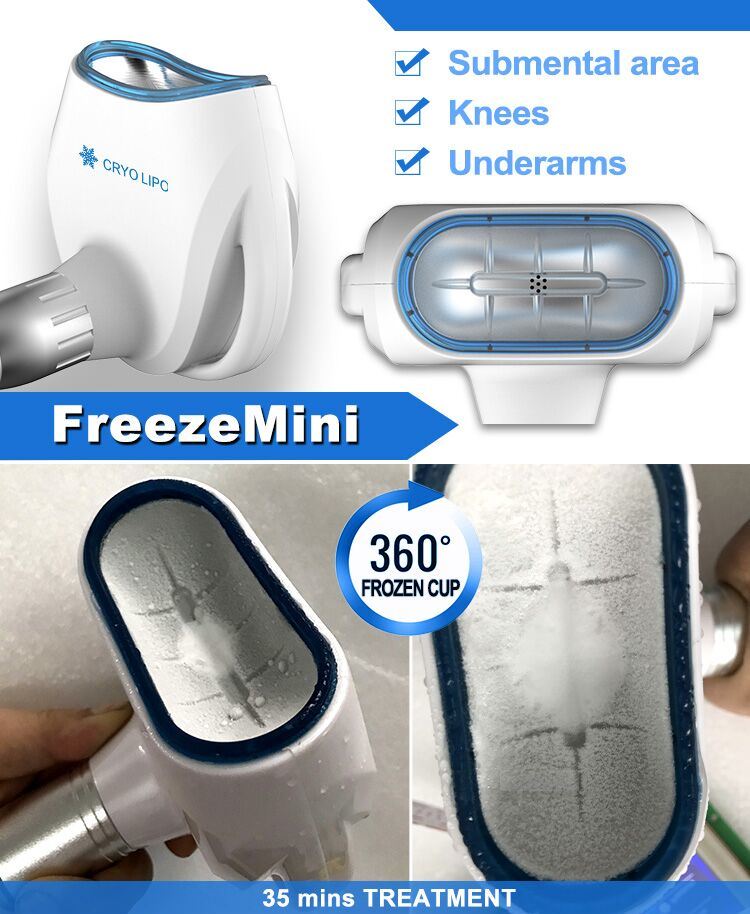 Freeze chin handle
 
Special design for chin, armpit fat, knee treatment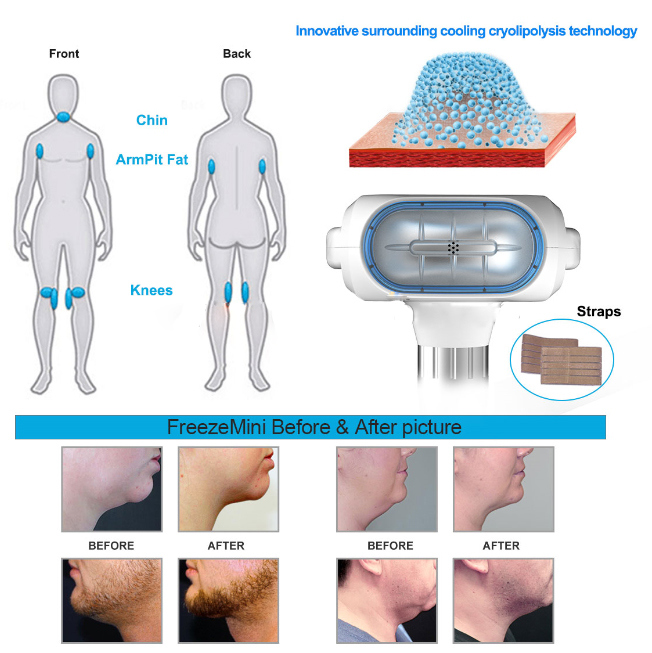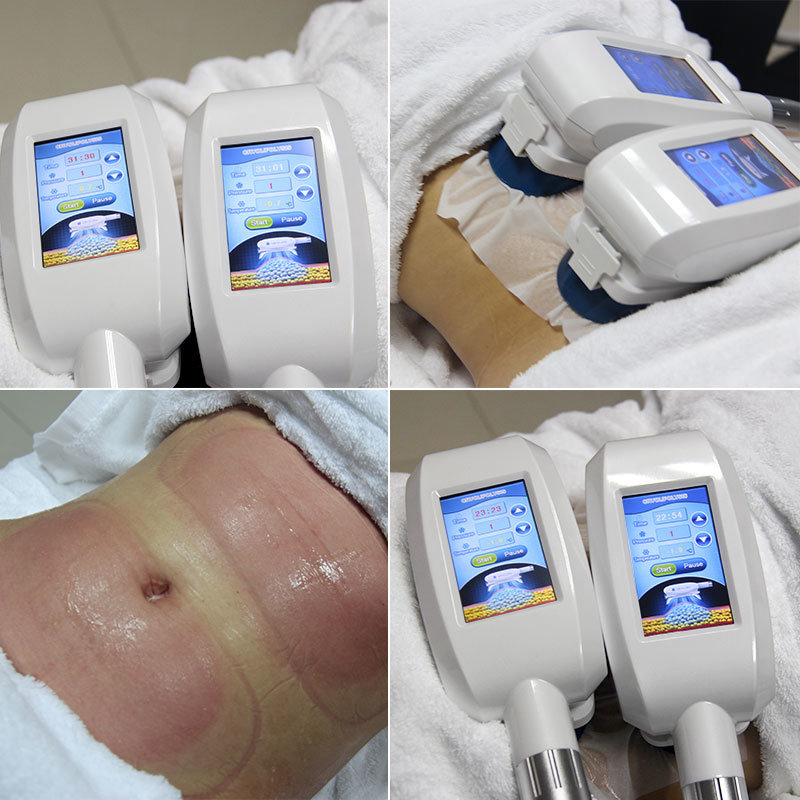 Host screen

8 inch TFT true color

Handle screen

4.3 inch TFT true color

Cryo temperature

-10ºC~5 ºC and -10ºC~45 ºC

Max vacuum pressure

102KPa

Handle Material

High Conductive Aluminum

Treatment system

Cooling and heating& cooling for optional

Working mode

Independent or Simultaneous

Cryo handles

3

Contour

CoolFit: 180*69*46mm  




CoolCore: 201*72*67mm    




CoolCurve: 205*79*74mm
 
 
 
 
 
Electric Foot Massager,Infrared Kneading Massager,Foot Roller Massager,Vibration Massage Sofa
Berkeley Electronic Technology Co., Ltd. , http://www.nbmassagebed.com