Model NO.:

Elight02

Theory:

IPL

Portable:

Non Portable

Two Handles:

E Light Handle Shr Handle

RF Frequency:

10MHz

Pulse Number:

1-99

Lamp Longevity:

500, 000shots

Power:

2000W

Transport Package:

Aluminum Box

Origin:

Beijing China
Type:

Hair Removal Instrument

Application:

Salon, Clinic, SPA.Hospital

Product Name:

Hot Selling Best Hair Removal with High Quality

Energy:

1-50j/Cm2(IPL) 1-50j/Cm2(Elight) 1-50j/Cm2(RF)

Pulse Width:

0.1-9.9ms

Shr Frequency:

1-10Hz

Cooling System:

Wind+Water+Semiconductor+Contact Cooling

Trademark:

MB

Specification:

CE

HS Code:

8543709990
SHR/IPL hair removal and skin rejuvenation machine (MB600C)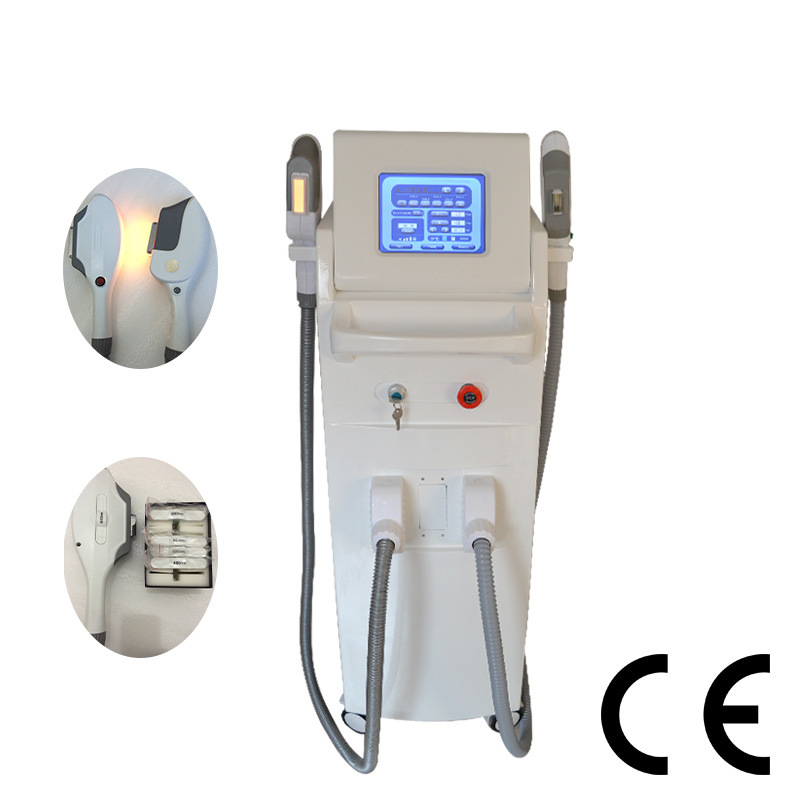 SHR technology
SHR=Super Hair Removal, it's a revolutionary technology of hair removal which is having a sweeping success.  
 
1, SHR machine is with Single pulse mode can emit energy averagely, however, IPL machines are with multi-pulse mode which focus energy on first pulse, which is very easy to burn patients. 
 
2. SHR filtered violet light and infrared light(650-950nm), which will eradiate and absorb water from target skin. So SHR does not have any side-effect to body. 
 
3. with DEC technology. Identified function makes operation simple, and makes treatment safely! 
 
4. with bigger frequency (from 1 to 10Hz), Which accelerate operation speed and short a lot of time for treatment!
 
5. with Stationary technology &Â In-motion technology. Moving IPL can use less time to do treatment on back, leg and arm.
SHR Ipl Hair Removal Machines Effective And Painless , fast hair removal, and stable energy, painless and effective.
The theory of Elight (IPL +Â RF)
 
Advanced technologies: bipolar RF (radio frequency) +Â IPL(intense pulsed light), can be used together or separately. Perfect treatment results can be expected. The RF energy can penetrate into the dermis layer and directly deliveries to the hair follicle on skin below 8Â mm. Integrating with the IPL energy, good treatment result will show you in short time. In addition,
This thermal energy stimulates production of new collagen and re-arrange collagen tissue ,The subsequent heating further tightens the skin tissue and reduces wrinkles . the most importance is that theIPL with contact cooling system inside is effective on the epidermis that greatly reduce the pain during the treatment. The stable performance makes the safety in the whole process.
 
 
Applications of Elight (IPL+RF)
SHRÂ Â big crystal spot size 15x50 for hair removal with super stronger energy ,
IPL +RF for skin rejuvenation ,shrink pores ,wrinkle removal. photo rejuvenation with super small spot size 12x30
IPL for acne treatment and vascular lesions, pigment removal, epidermis
Speckle ,fleck aging spot ,chloasma etc .
IPL +Â RF skin tightening, face lifting and body shaping .
Standard filter include :
 690-1200nm:   Hair Removal (Skin Type  III) and Breast enhance
 640-1200nm:   Hair Removal (Skin Type  I,II,III,IV) ; Wrinkle Removal
 590-1200nm:   Pigmentation and Vascularity; Skin Rejuvenation
 530-1200nm:   Skin Rejuvenation; Superficial Vascular Lesions
 480-1200nm:   Light Pigmentation, Acne
 650-950nm  : SHR  fast hair removal
 
Extra filter for your option
 430-1200nm:   Acne
 560-1200nm:   Vascular and Pigmented Lesions; Skin Rejuvenation
 750-1200nm:   Hair Removal (Skin Type  VI)  
Advantage and benefit of our IPL+ RF
1, IPL+ RF is more effective on dark skin and blonder hair than unique ipl or laser machine
2, Simple operation menu .
our elight menu come with skin type(I,II,III,IV, V,VI) Hair color .hair thickness .
the operator only need choose the Corresponding skin type and hair color when they do the treatment
no need to change the parameter like pulse width,pluse number etc .
it is more easy and simple for the operator to use it .
3. Our elight machine can deal with all kinds of skin type and hair color .
Ipl sapphire handle come with super stronger energy output .
Big spot 15*50 which is very good for large area hair removal .
Elight handle with 5Â filters which can do small parts of hair removal .
4. The fast connector of ipl handle ,it is more convenient for the operator to install .
5.Excellent cooling system inside of machine which can make sure our machine have a long working time each day .
Normally .our stand Elight machine can work 5 to 8 hours without stop  
 
Parameters :

Two Handles

E light handle with 5Â filters, 12*12mm ;Â 12x30 for your option ,
SHRÂ Â Handle with 15*50mm

480nm-1200nm for acne,vascular
530nm-1200nm for skin rejuvenation ,wrinkle removal
590nm-1200nm for pigmentation , remove age spots ,sun spots,
640nm-1200nm for hair removal ,depilation
690nm-1200nm for red face ,red nose, spider veins, breast enhance
 650-950nm  : SHR  fast hair removal
430nm,560nm, 580nm,695nm for your option (any customized wavelength from 300nm to 1200nm )

Energy

1-50J/cm2(IPL)Â Â 1-50J/cm2(Elight) 1-50J/cm2(RF)

RF frequency

10MHZ

Pulse width

0.1-9.9ms

Pulse number

1-99

shr frequency

1-10HZ

Lamp longevity

500,000shots

Cooling system

Wind+water+semiconductor+contact cooling

Power

2000W

Pack size

64X48X129

Gross Weight

58KG

Package include

1.        Main Machine X 1
2.       E-light Handle X 1
3.       IPL SHR Handle
4.       Filter X 5
5.       Protective Goggles X 2
6.       Funnel X 1
7.       Foot Switch X 1
8.       English manual/instructions,CD
 
Beijing Medical Beauty Ltd
 
Contact ways of Annie yu 
Fast inquiry:Â 
+86 18801419856
 
Company website
www.beauty-equipments.com or www.rf-laser.com 
Cell Bottle,Cell Culture Flask,Square Bottle
Rong Tai Biochemical Engineering Co., Ltd. , http://www.shpipette.com